-St Lawrence Market/Old Town Tour-
April 2012-National Geographic Magazine names St Lawrence Market Best Market in the World!
-Reservations are a must for the St Lawrence Market tour. Tours can run every Tues, Weds, Thurs, Fri and Saturdays at 10am so reserve a space now
This unique 90 minute tour includes a guided walk with Bruce Bell through Toronto's famed St Lawrence Market hearing about its fascinating 200 year history. Then after covering the Market we'll go walk around Old Town Toronto including stops at: St Lawrence Hall, King Edward Hotel (when available), as well as various historical sites along the way.

This tour is $30 per person. The price for groups of 10 or more is $25 per person. Tickets can be purchased on the day of the tour with me just inside main entrance of St. Lawrence Market. Cash is best, as there is a 5% surcharge for credit cards. For more info on the meeting place plus map and photo, just scroll down. The tour lasts about 90 mins and is not alot of walking
St Lawrence Market is located at 91 Front Street East on the southwest corner of Jarvis and Front Streets, two blocks east of Yonge Street and is wheelchair accessible.
NOTE St. Lawrence Market is CLOSED on Sundays and Mondays
I urge you to phone me if I haven't responded to your email within 24 hours
-$30 PER PERSON (minimum 2 people) for approx 90 min tour-
MEETING PLACE: As soon as you enter the main Front Street centre archway of South St Lawrence Market there is a historic photo display on the left hand side, I will meet you there. I will have my phone if you need to get hold of me.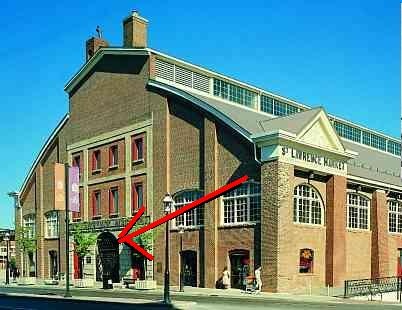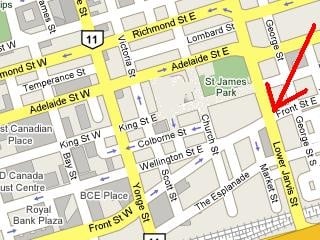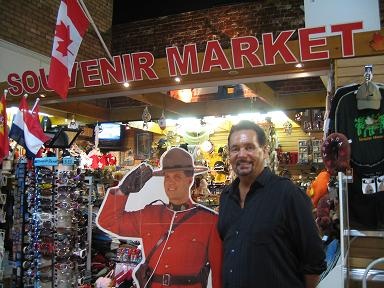 Bruce Bell standing with Mountie at the Souvenir Shop in St Lawrence Market
http://www.stlawrencemarket.com/
PLEASE NOTE: As with all Bruce Bell tours, still photograghy is allowed with permission, however filming or video recording of any sort is not